Hannah Moon (Primax)
Hannah Moon is a human from the Primax Cluster. Click here for similar characters.
Hannah Moon is a medic for M.A.S.K..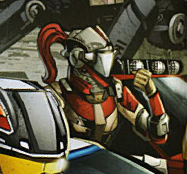 Primax 1013.11 Gamma (Unit:E)
An inhabitant and medic of the run-down city of Detroit, Hannah Moon found the workshop of the League of Ancient Wheelmen along with Matt Trakker, Damone and Vanessa Kendall, and Glen Gephard. Using the technology they found to upgrade their gear and vehicles, Trakker lead the group in humanitarian efforts in Detroit as M.A.S.K..[1]
Reference Notes