Heavy Artillery Laser
The Heavy Artillery Laser, or H.A.L. is the Anti-Aircraft weapon of G.I. Joe.
Primax 984.0 Gamma (Marvel US)
By 1982 CE, the HALs were in the G.I. Joe armory with the following specification:
Generator Air intakes
CRT Sighting and Locating Computer
Synchronizer Unit
Motor Support Systems
Replaceable lasers (30 hour cycles)
Main Barrel Insulation
Generator Exhaust port
Hydraulic Stabilizer
Trail Legs
Flash was trained in how to use the weapon[1].
Primax 984.17 Alpha (US G1 Cartoon)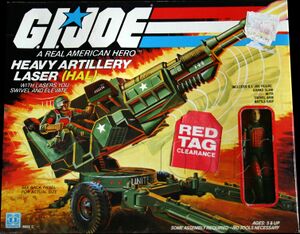 By 1983 CE, H.A.L.s were in use for G.I. Joe[2].
Reference Notes