Laserbeak (Primax)
Laserbeak is a Transformer from the Primax cluster. Click here for similar characters.
Laserbeak is a Decepticon spy. He is a cassette under the command of Soundwave.
Primax -408.01 Gamma (Shattered Expectations)
Laserbeak was a member of the Decepticon unit called the Mayhem Suppression Squad, and later was brought in during a battle against the Autobots over Decepticon Pretender technology.[1]
Primax 984.0 Gamma (Marvel US Comic)
The interrogator Laserbeak was a Decepticon during the Great War. In 4 MYA, Laserbeak was part of the crew of the Nemesis that launched in response to take down the Ark. Laserbeak was part of the boarding party on the Ark and when the Ark crashed into Earth in Mount St. Hillary, Laserbeak was thrown into stasis. Laserbeak awoke in 1984 CE after being rebuilt with a Earth-based alternate mode. Megatron took role of his Decepticons and ordered a retreat. Laserbeak kept an eye on the Autobots and reported to Megatron when it appeared that the Autobots were moving to make an alliance with the dominant species of the planet at a drive-in movie theater. Laserbeak later joined the Decepticons in the attack on the Autobots that resulted in pushing the Autobots back.[2]
Primax 984.17 Alpha (US G1 Cartoon)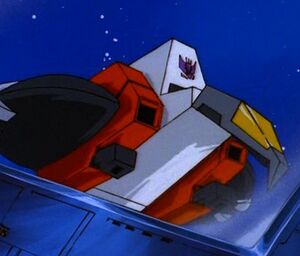 Laserbeak was a Decepticon cassette under the command of Soundwave. 4 million years ago, Laserbeak was deployed in the Battle of Iacon to spy on the Autobots. He learned that Optimus Prime had decided to abandon Cybertron in search of energy. When Laserbeak was next deployed, he found himself on Earth in 1984 CE with a new alt mode, as Soundwave and the Decepticons under Megatron were stranded on Earth. He was deployed to investigate where the Decepticons were taking fire from, and Laserbeak found that they were Autobots. He wounded Hound, but Cliffjumper managed to ward his launched rocket away. Laserbeak was then deployed to find a source of energy on Earth and he located an oil rig. He was deployed again to attack the oil rig to gather its energy into Energon cubes, a recent invention by Soundwave. The Autobots later launched an attack on the Decepticons to save the humans on the rig and to prevent the Decepticons from collecting the energy, but the Decepticons pulled out victorious.[3]
Primax 1005.19 Gamma (IDW G1)
Four million years ago, Laserbeak was a cassette under the command of Soundwave. Laserbeak was deployed during Soundwave's first meeting with Megatron and Laserbeak and Buzzsaw located and apprehended the Autobot spy Fastback. Laserbeak assisted Soundwave with reading the mind of Bumper for interrogation.[4]
Reference Notes